If you wondered how to download Lanc Remastered, then you have come to the right place. Welcome to our unofficial website (approved by original developer Lord Psycho) and should only be downloaded from here.
For those that doesn't know what Lanc Remastered is, let's break it down for you. It's one of the most popular IP puller/sniffer for your gaming console, growing a main audience in the PS4 and Xbox communities.
Lanc Remastered IP puller is open source which means its free, unlike Octosniff and ConsoleSniffer and is designed specifically for gamers to monitor networks, packets or simply put, pull/sniff IP addresses.
How to download Lanc Remastered
1. Install Prerequisites
Install the following tools for Lanc Remastered to be operable on your windows machine.
2. Download Lanc Remastered
Grab it from our download page below. (Unlock download link below)
3. Tutorial on how to use Lanc Remastered
If you need help configuring or learning how the tool works, make sure to follow our how to guide.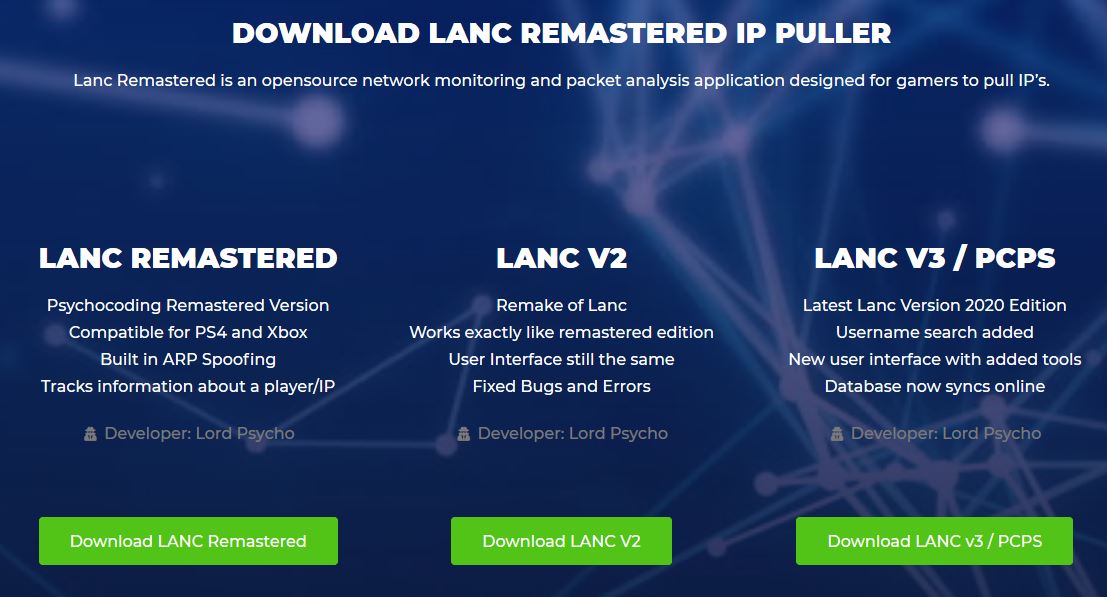 Frequently Asked Questions
1.Why are there three versions of Lanc Remastered
The latest version is the Lanc V3, specially edited from the original author and fixed a lot of errors. Although the original is still available to download, but we recommend using Lanc v2 or v3.
2. How do I boot/kick players offline
Use our ultimate gamers guide on how to kick and boot players offline on PS4 and Xbox
3. Where can I get the source code
You can download the source code in our download section here or on github.
4. I'm having issues with my Lanc
All issues and errors, should go into our forum section or check out our repair guide here
Leave a reply